Pigeon Peas with Mango Curry
Posted by Cidell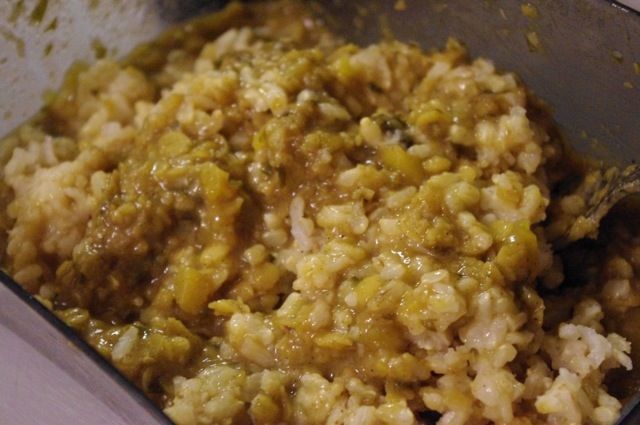 It's not pretty. But, it's delicious. My dad is Jamaican. It was only in recent years I learned the connection between Jamaican and Indian food. Gungo peas (as I grew up calling them) are readily available as piegon peas from generic grocery stores or toovar or toor dal in Indian stores. Mixed with garam masala and a little mango, this made a very satisfying meal. It also made it's way on to the Jamaican Independence Day Dinner menu.  This was my second time making it. The first time I really made it for dinner because I was tired of scavenging for food in the evening. But, DearestLizzie insisted I bring some to work. That girl cannot resist food sampling :)
And now, the recipe from the venerable Gray Lady. I served mine over brown rice and ate it for both breakfast and dinner.
Pigeon Peas With Mango
1 heaped cup skinned yellow pigeon peas (toovar or toor dal), preferably the un-oily variety, picked over for stones
1 medium ripe mango, peeled, seeded and chopped
1/2 teaspoon cayenne plus 1 teaspoon ground toasted sesame seeds, or 2 tablespoons Maharashtran sesame-flavored garam masala (see below)
Salt to taste
1/2 teaspoon ground turmeric
10 to 12 curry leaves
2 tablespoons canola oil
2 teaspoons cumin seeds
1/4 cup finely chopped cilantro
1. Place the pigeon peas in a medium, heavy saucepan. Cover with 1 inch of water, and roll around the peas. The water will cloud. Drain through a strainer, and return to the pot. Repeat several times until the water is no longer very cloudy when you cover the peas. Drain and return to the pot, then add 3 cups water and bring to a boil over medium-high heat. Skim off and discard any foam. Stir the peas, reduce the heat to medium-low, cover and simmer, stirring from time to time, for 10 minutes. The peas will be partly tender.
2. Add the mango, the garam masala or the cayenne, salt, turmeric, curry leaves and 1 cup water. Bring back to a boil, then reduce the heat again to medium-low. Cover and simmer 20 minutes, stirring occasionally, or until the peas are tender and falling apart.
3. While the peas are simmering, heat the oil in a small, heavy skillet over medium-high heat. Add the cumin seeds. When they begin to sizzle, turn a reddish brown and smell nutty, remove from the heat. Add the cilantro, and stir until the sizzling stops.
4. When the pigeon peas and mango are very tender, remove the curry leaves and mash the mixture with the back of your spoon. Scrape in the seasoned ghee or oil, and stir together. Cover and simmer five minutes until the flavors are nicely blended. Taste, adjust salt and serve.
Note: For the garam masala, in a small, heavy skillet over medium-high heat combine 2 tablespoons skinned raw peanuts; 1 tablespoon white sesame seeds; 1 1/2 teaspoons coriander seeds; 1/2 teaspoon cumin seeds; 4 to 5 dried red Thai chilies, cayenne chilies or arbol chilies; 1/8 teaspoon freshly grated nutmeg or nutmeg shavings; and 1 blade of mace. Stir until the peanuts are lightly colored in spots and the sesame seeds are a honey-brown color. Immediately transfer to a plate or bowl to cool completely. Add 2 tablespoons shredded dried unsweetened coconut to the pan, and stir just until almond brown, about 15 seconds. Transfer to the plate or bowl with the spices and nuts. Allow to cool completely. Blend in a spice mill, pulsing the mixture so that the sesame seeds and peanuts don't heat and grind to butter. Transfer to a jar, and store in a cool, dry place.
Yield: Four servings.
Advance preparation: You can keep this in the refrigerator for two or three days. It will stiffen up. Thin out with water if desired.
Nutritional information per serving: 296 calories; 5 grams saturated fat; 1 gram polyunsaturated fat; 0 grams monounsaturated fat; 20 milligrams cholesterol; 44 grams carbohydrates; 9 grams dietary fiber; 12 milligrams sodium; 12 grams protein
Martha Rose Shulman is the author of "The Very Best of Recipes for Health."